2022 POST SEASON
FOR STARSKATERS, CANSKATE ADVANCE AND
CANSKATE BEGINNER WHO HAVE BEEN INVITED TO TRANSITION TO CANSKATE ADVANCED
We are happy to offer additional skating sessions this Spring, allowing skaters six to nine extra sessions to finish working on their current skating levels and develop new skills!
2022 WINTER SESSIONS
REGISTRATION IS OPEN!
If you are unsure which program to register your child in, please email us at info@vesc.ca and we can help you determine which program is best suited for your child.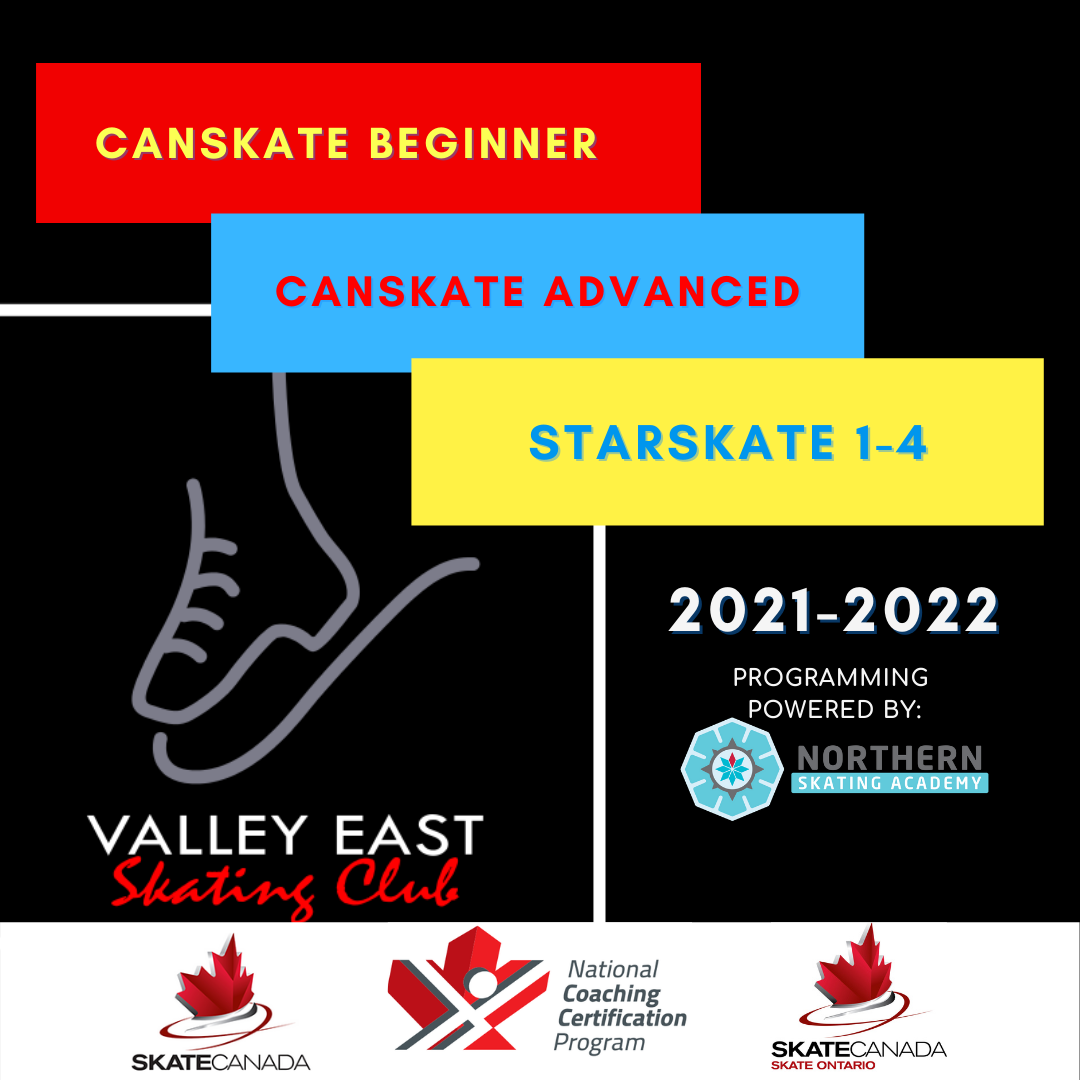 OFF ICE TRAINING
Fridays 5-6pm @ Centennial Arena Upstairs Hall
November 12, 19, December 3, 10
Off ice training classes will be designed for ages 7+, however younger skaters are welcome to come try it out if they would like! These classes are no extra charge for already registered members. Siblings are welcome to join for $5 / class.
Classes include a warm-up featuring dynamic stretches, a circuit with exercises focusing on power, core strength, and agility, a short creative movement section, flexibility training, and then end with a yoga inspired cool down. Skaters of all backgrounds will benefit from this training.
Running shoes are mandatory, and yoga mats are recommended. We will have a few mats on hand if your skater does not have one.
Masks are mandatory until participants are engaged in movement. Masks are required at all times for spectators.
If you have any further questions, please email info@vesc.ca. Programming Powered by Northern Skating Academy
CANSKATE EXCELLENCE: SKATE ONTARIO RATING
The Valley East Skating Club is honored to receive the Skate Ontario CanSkate Excellence - Advanced Standard rating for our CanSkate Program.
Advanced Standard ⭐ means a club/school has demonstrated that their CanSkate program has exceeded all the CanSkate standard guidelines as set by Skate Canada, and has put extra effort into offering an exceptional program for their athletes.
We strive for excellence in all of our programs, and have been at the forefront of program development throughout the years. Thank you to our amazing team of CanSkate coaches, and our dedicated program assistants who make our CanSkate program the wonderful learning environment that it is! We take this opportunity to recognize the hard work and extra time that goes in to achieving excellence!
For more information about our CanSkate programming head over to our CanSkate page.